【Royal Purple】12 pcs Gift Box★Taiwan Traditional Pineapple Cake*8 + Mini Mung Bean Pastry*4
NT$496
★Purple noble, moderate weight gift box.
★For vegetarians who enjoy eggs and dairy products.
描述
This noble delicacies is popular both in quantity and price range. The purple color theme gift boxes sets tone in the color of the royal favorite, the finest in tastes for your family members and friends. This Royal Purple gift box set has always been our best seller during the Moon Festival holidays, and also great day to day gifting or another holidays!
HanFang Specialty Taiwan Pineapple Cake
Quality selected fresh harvested produce straight from local farm in Taiwan. The pineapples are first cleansed and skinned, then chopped and cooked in a secrete HanFang process to bring out the pineapple's natural essence. The pineapple essence then added with winter melon jam in special HanFang ratio, so the pineapple fillings becomes golden transparent and velvety pineapple jam. The tenderness that you can taste as we call it tenderly "Q" here in Taiwan! The golden transparent pineapple jam together with the crisp and crumbly crust, upon opening the individually wrapped sealed package, the pleasant pineapple aroma rushes in. Each bite is a full ripe pineapple sensation!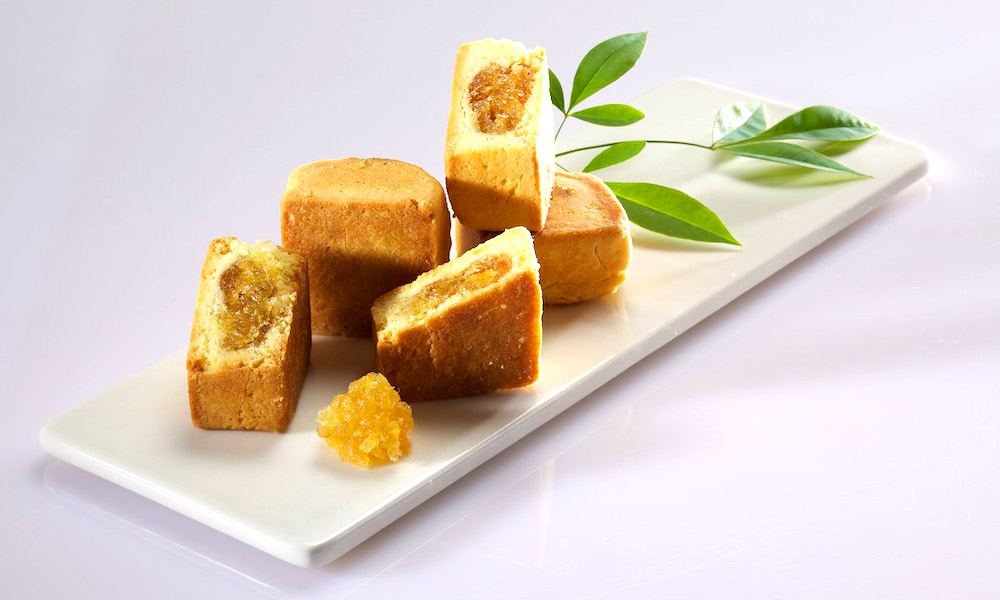 ★For vegetarians who enjoy eggs and dairy products.
★Ingredients:Flour, Sugar, Egg, Salt, Pineapple Jam, Winter Mellon Jam, Imported Butter
★Weight:45 ±8% grams per unit
★Experation:30 days
HanFang Mini Mung Bean Moon Cake
The bite size house special mung bean filling moon Cakes are popular by demand for the convenience and elegance of your enjoyment. It is perfectly small in size, but large in satisfaction. The minis is purely designed for your guilt-free enjoyment without sacrifice!
★For vegetarians who enjoy eggs and dairy products.
★Ingredients:Flour, Egg, 塩, Mung Bean Fillings, Sugar, Imported Butter
★Weight:50 ±8% grams per unit
★Experation:14 days
額外資訊
| | |
| --- | --- |
| Select | 【Royal Purple 70th Limited】12 pcs Gift Box★Pineapple Cake*8+Mini Pork Mung Bean Mooncake*4(Magenta), 【Royal Purple 70th Limited】12 pcs Gift Box★Pineapple Cake*8+Mini Pork Mung Bean Mooncake*4(Purple) |